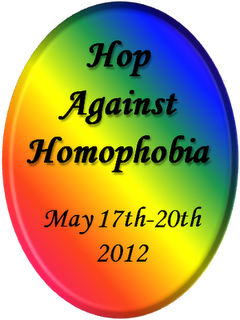 Thank you for stopping by my little corner of the web.
I decided to participate with the Hop for Homophobia as I wanted to bring awareness and rights to those who are horribly discriminated against.
I live inCanadaand I've had the opportunity to live in a society where you're not judged based on who you love. I grew up in a free a loving household, Black, White, Gay, Straight, Trans, heck you never knew who was going to be at my house at any given day. I was brought up to accept everyone, for who they were.
I as a child I never knew how lucky I was. As an adult I strive to carry forth the values I had instilled in me.
Canadahas had equal marriage rights since 2006, what has happened to us? Nothing. The world has gone on the same as before.  We've actually had civil partnerships since the early 90's
I'm a M/M author, and my book "Sometimes It's Fate" just went to print. It's about two police officers Jason and David, who fall in love.
Here is the cover art and Blurb
 
Jason McCarthy is gay. He's also a police officer living in a small-minded northern New Brunswick town where being gay could spell the end of his career. When an impending snowstorm threatens to strand his best friend and policing partner, David, Jason offers up his spare room for the night- a move that reveals Jason's secret, and changes their friendship and lives forever.
David Richard isn't gay- at least he doesn't think he is. He knows he loves his best friend, and he admits to feelings that had started after a tragic accident almost a year before. When David acts on these feelings, it doesn't go well, leaving both men alone and hurt. Jason, however, doesn't think twice about stepping in and rescuing David's children when their mother abandons them. The move brings David and Jason back together, but Jason's past rears its ugly head and they both have to make difficult decisions that are sometimes best left up to fate.
 
You can pick Sometimes It's Fate up: Here from the Publisher, Here from Amazon, and Here in print! 
 
The Second book in the Canada's Finest series is "Boots on the Ground".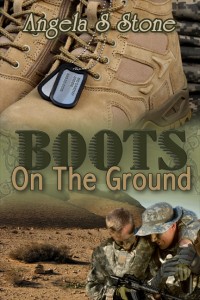 Ash Cooper knows him and, his Civilian Police partner, Jason McCarty need to do one thing- Stay Alive. An IED attack leaves both men stranded in the high desert of Afghanistan and running from insurgents. With damaged satellite phones and Ash being injured their only hope is to take refuge with a group of civilians until then can be rescued. But rescuers don't come and as the days turn to weeks Ash and Jason think about home, the partners they left behind, and when all hope is lost they turn to each other in a struggle for survival. 
 
Just before Jason gets deployed to Afghanistan, Jason marries his partner David. Here is an EXCLUSIVE SNEEK PEAK at Boots on the Ground which is coming out from Phaze Books in July!
 
Lets show those who don't support MARRIAGE EQUALITY (I refuse to call it "gay" marriage") how beautiful it can be!!
*~*
Jason kept pacing and rubbing his sweaty hands on his pants. He hadn't been this nervous in his entire life.
"Relax Jason you're going to be fine," Steve said.
"I know, I just—" Jason shook his head he couldn't put his finger on what he was feeling.
"You're happy and excited and terrified and sad and mad and glad and you have no idea all rolled into one giant ball of energy," Steve supplied.
Jason nodded. "How did you know?"
"Dude, I got married in June. It's not a feeling you forget any time soon," Steve replied. He slugged Jason's arm playfully. "I think you're worse than I was."
"You were puking your guts out in the bathroom of the rectory because you were so hung over from the night before," Jason pointed out.
"Yeah that's true." Steve laughed. "Don't tell Nancy that."
"You're kidding right?" Jason said. He grinned at his older brother. "You drunk called her at three a.m. to say that you loved her so you didn't sleep with the stripper that your buddy hired."
Steve's eyes went wide. "I did not," he protested, but he turned bright red anyway.
"You so did. Nancy knew you had a killer hangover. Why do you think she dragged you out of bed at eight a.m. to do wedding stuff?" Jason laughed as Steve sputtered. "That is why I would not let you have a bachelor party for me."
"That and only you and Craig would like the strippers that Craig wanted to hire," Steve teased.
"That too," Jason admitted. The conversation with Steve lasted long enough that when he stuck his head out the seats in the court room were filled. He glanced out and saw Craig making his way towards him. They had decided that neither of them was going to walk down the aisle. Instead they would send Mandy and Kevin up the aisle as the flower girl and ring bearer. The groomsmen would follow and they would walk in from the wings.
"Two minutes," Craig said stepping into the anti-room. "No peeking." He stuck his tongue out at Jason. "I already yelled at David for it."
Jason hugged his best friend tightly. He owed a lot of his relationship with David to Craig and his pointed interventions when needed.  "Thank you," he whispered to Craig.
"For what?"
"For being there and for kicking my ass when I needed it," Jason replied.
Craig shook his head. "I owe you thanks, for—" he glanced at Steve. He clearly didn't want to reveal the history between them regarding his HIV status. "Thank you for all of the support you've given me. I couldn't do this without you."
Jason hugged the smaller man. They broke apart as the music started for Mandy and Kevin to go up the aisle then Steve followed by Craig went out. He waited for his cue and then he walked out. He caught David's eye as they walked out of the wings together.
David looked as handsome as he ever did. His red serge seemed to shine. The whole place gave off a glow, a hum of excitement.
The met in the middle of the room, both smiling nervously at each other. Jason reached out and grasped David's hand tightly. Neither was wearing their gloves. Instead they were safely in his pocket. David's hand was a sweaty as his felt. That made him feel a tiny bit better. 
They turned to the Justice of the Peace. She smiled and began to speak. "We are gathered here today to join Jason and David, two people who love each other, in the union of marriage."  The ceremony went on and Jason honestly barely heard the words of the justice. He was nervous for the part where they said their vows.
"Jason and David have prepared their vows. Jason would you like to go first?" the Justice said.
Jason nodded. They had practiced this. Jason would say the vows first but David would do the rings first. That way there would be no question as to the equality of their relationship.
He fumbled to get the paper out of his pocket. David smiled as he did so. He read the words he had written there, but what he had written just days after David had proposed didn't seem to work anymore. He took a deep breath, capturing David's hands in his. "I wrote these vows the day after David asked me to marry him," he started. "I thought they were exactly what I wanted to say but now—" Jason shook his head. Instead of reading the words on the page he spoke from the heart. "I love you David Henri Richard. I fell in love with you when I was lost and so broken. You were my best friend. You were a light in a very dark tunnel when I thought I would never see the end of my grief. Every day I wake up next to you I thank God that I have you. Every time you kiss me, I feel my knees go weak like I'm going to faint because I am so lucky to have you." Jason stopped and swallowed. More tears threatened to spill over. "I know that life hasn't been easy to us. I know that we have a long road ahead in the future, but I promise to love you for now and for always David, in sickness and in health and for richer and for poorer and all of that other TV stuff." David laughed slightly. His own tears shone in his eyes. "I love you," he finished simply.
"I love you too," David mouthed.
"David, go ahead," the justice prompted.
David cleared his throat. He gripped Jason's hands tightly in his. "If you had of told me two years ago, that I would be standing here today marrying my best friend, I would have laughed at you," he started. His voice started off soft but got stronger as he spoke, "but here I am. I am marrying my best friend, my confidante and my soul mate. I love you Jason Christopher McCarthy." David stopped to clear his throat. "I am so grateful that I have you. Every day when I look at you I think it was some miracle, some gift of fate that brought us together.  I have no idea what my life would be like without you and I pray I will never have to find out." David smiled broadly. "So I David, promise to love you, Jason, in sickness and in health and for richer and for poorer and all of that other TV stuff."
 Everyone in the audience laughed softly, as did Jason, which he was grateful for because otherwise he was on the edge of bursting into tears.
They took a moment to compose themselves. He was grateful the Justice of the Peace remembered that they were supposed to sign the wedding registry next otherwise he would have totally forgotten. The brief task of signing the certificate of marriage gave him the reprieve he needed until he realized that together their names were neatly typed and signed, officially marrying them in the eyes of the law.
They held hands as they went to stand back in front of their friends and family. "Do you have the rings?"
Kevin stepped forward with the rings on a pillow. David took them from him, patting his youngest son on his shoulder. He handed the slightly smaller ring to Jason to give to him.
"Alright David repeat after me. With this ring, I, David Henri Richard, wed thee, Jason Christopher McCarthy," she said.
David replied, "With this ring I, David Henri Richard, wed thee, Jason Christopher McCarthy." David slipped the ring on to his finger.
"Jason, repeat after me. With this ring I, Jason Christopher McCarty, wed thee David Henri Richard." 
"With this ring I, Jason Christopher McCarty, wed thee David Henri Richard," Jason repeated he tried to get the ring on. It got stuck on David's knuckle before he gave it a small push and it slid into place.
David smiled shyly at him and Jason returned it. The justice smiled broadly. "You may now seal this union with a kiss."
Jason leaned in. He licked his lips wetting them slightly. Suddenly he felt nervous again. David pulled him in closely. He tilted his head up enough so that their hats wouldn't bump. Jason lowered his lips to David's. They kissed softly at first but neither pulled away. They deepened the kiss briefly before they broke apart. The room erupted in a loud cheer.
"I now pronounce Constables Jason McCarthy and David Richard officially married," the justice said in her last official act.
Again the room cheered.  Jason held David's hand tightly. They walked out of the court room to applause, cheers and even the occasional pat on the back. Outside of the court their friends and family quickly spilled out all congratulating them on their marriage.
Jason stood there, his hand tightly clasping David's when Mandy ran over to them. She attached herself to Jason's legs. "Uncle Jason," she said sweetly hold her arms up. Jason scooped her up into his arms. "Do you know what?"
"What?" Jason asked smiling at her.
"Now you can be my Daddy too," she announced proudly. "I have two daddies."
Jason hugged his step-daughter close to him. "Yes you do," he agreed while David smiled at them a tear tracking down his face. "Yes you do."
*~*
Talk about adorable!
Now THE PRIZES
You have THREE ways to win!
1-"Like" my facebook page! Everyone who "likes" my page is automatically entered into win. (Handy "Like" button on the side bar –>)
2-Comment on this blog post with your email address
3- Follow me on twitter and send me an "@"! (Follow button also on the side bar —>)
 
The BIG prize pack I'm giving away
1-A very awesome PRIDE FLAG from Ottawa, Canada along with various other "PRIDE" items from here in the Capital of Canada
2-1 Copy of Sometimes It's Fate (Print or Digital!)
3-1 digital ARC of "Boots on the Ground"(when available)
4- 2 M/M romance books from RT 2012!
 
WOW! All winners are chosen by random.org. The BIG prize pack will be shipped out to you from Canada. Contest closes in ONE week. I'll ship ANYWHERE in the world!
 
Thanks! And happy hopping. Stop by my other blog Sex Scheming Geniuses, for more prizes!
Don't forget to go back to Hop Against Homophobia for more blogs
*~*
Oh and if you're still listening… I'm doing a TOUR for Sometimes It's Fate! You can win MORE Prizes by check out the blog stops by clicking on the Banner!