A big thank you to everyone who has put up with me the last few months! It's been a long haul! Here it is!!! Boots on the Ground!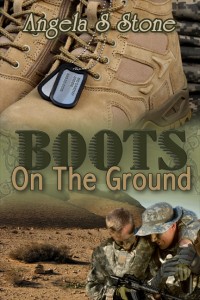 Buy links:
Amazon: http://www.amazon.com/Boots-On-The-Ground-ebook/dp/B00AAODH6K
ARE: https://www.allromanceebooks.com/product-bootsontheground-1006044-145.html
Direct from Publisher: http://phaze.com/book.php?title=Boots+on+the+Ground
Blurb:
Ash Cooper and Jason McCarty know they need to do one thing, and one thing alone: stay alive.
An IED attack destroyed their convoy and left them both injured in the high desert of Afghanistan and running from insurgents. They take refuge with a group of Afghan civilians, and their only hope of rescue is two satellite phones that might be damaged beyond repair.
Ash and Jason join forces with a British army nurse to survive the harsh living conditions. As days to turn to weeks, they think of home, the husbands they left behind, and the lives they want to return to.
But with food rations running short, the elders angry at them, and the hope of rescue lost, Ash and Jason start to give up, and in the end turn to each other in their struggle for survival.
Excerpt:
"We are gathered here today to join Jason and David, two people who love each other, in the union of marriage." The ceremony went on, and Jason barely heard the words of the Justice. He felt too nervous for the part where they said their vows to pay attention.
"Jason and David have prepared their vows. Jason, would you like to go first?" the Justice said.
Jason nodded. They had practiced this. Jason would say the vows first, but David would do the rings first. That way there would be no question as to the equality of their relationship.
He fumbled to get the paper out of his pocket. David smiled as he did so. He read the words he had written there, but what he had written just days after David had proposed didn't seem to work anymore. He took a deep breath, capturing David's hands in his. "I wrote these vows the day after David asked me to marry him," he started. "I thought they were exactly what I wanted to say, but now—" Jason shook his head. Instead of reading the words on the page he spoke from the heart. "I love you, David Henri Richard. I fell in love with you when I was lost and so broken. You were my best friend. You were a light in a very dark tunnel when I thought I would never see the end of my grief. Every day I wake up next to you, I thank God I have you. Every time you kiss me, I feel my knees go weak because I am so lucky to have you." Jason stopped and swallowed. More tears threatened to spill over. "I know life hasn't been easy on us. I know we have a long road ahead in the future, but I promise to love you for now and for always, David, in sickness and in health and for richer and for poorer and all of that other TV stuff." David chuckled in response. His own tears shone in his eyes. "I love you," Jason finished simply.
"I love you too," David mouthed.
"David, go ahead," the Justice prompted.
David cleared his throat. He gripped both Jason's hands in his. "If you had of told me two years ago that I would be standing here today marrying my best friend, I would have laughed at you," he started. His voice started off soft but got stronger as he spoke, "but here I am. I am marrying my best friend, my confidante and my soul mate. I love you, Jason Christopher McCarthy." He paused to clear his throat again. "I am so grateful that I have you. Every day when I look at you I think it was some miracle, some gift of fate that brought us together. I have no idea what my life would be like without you, and I pray I will never have to find out." David smiled broadly. "So I, David, promise to love you, Jason, in sickness and in health and for richer and for poorer and all of that other TV stuff."
Everyone in attendance laughed, as did Jason, which he was grateful for because otherwise he was on the edge of bursting into tears.
They took a moment to compose themselves. The Justice of the Peace remembered they were supposed to sign the wedding registry next otherwise he would have totally forgotten. The brief task of signing the certificate of marriage gave him the reprieve he needed until he realized that together their names were neatly typed and signed, officially marrying them in the eyes of the law.
They held hands as they went to stand back in front of their friends and family.
"Do you have the rings?"
Kevin stepped forward with the rings on a pillow. David took them from him, patting his youngest child on his shoulder. He handed the slightly smaller ring to Jason to give to him.
"All right, David, repeat after me. With this ring, I, David Henri Richard, wed thee, Jason Christopher McCarthy," she said.
David replied, "With this ring I, David Henri Richard, wed thee, Jason Christopher McCarthy." David slipped the ring on to his finger.
"Jason, repeat after me. With this ring I, Jason Christopher McCarthy, wed thee, David Henri Richard."
"With this ring I, Jason Christopher McCarthy, wed thee, David Henri Richard," Jason repeated. He tried to get the ring on. It got stuck on David's knuckle before he gave it a small push and it slid into place.
David smiled shyly at him and Jason returned it. The justice beamed. "You may now seal this union with a kiss."
Jason leaned in. He licked his lips. Suddenly he felt nervous again. David pulled him in. He tilted his head up enough so that their hats wouldn't bump. Jason lowered his lips to David's. They kissed softly at first but neither pulled away.
They deepened the kiss for an instant before they broke apart. The room erupted in a loud cheer. "I now pronounce Constables Jason McCarthy and David Richard officially married."