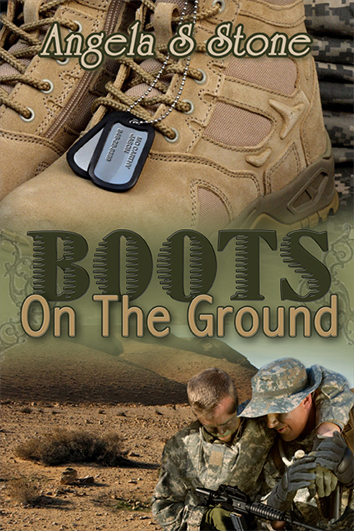 $4.65
Publisher:

Phaze Books

Available in:

Currently Unavailable for Purchase

Published:

November 20, 2012
Ash Cooper and Jason McCarty know they need to do one thing, and one thing alone: stay alive.
An IED attack destroyed their convoy and left them both injured in the high desert of Afghanistan and running from insurgents. They take refuge with a group of Afghan civilians, and their only hope of rescue is two satellite phones that might be damaged beyond repair.
Ash and Jason join forces with a British army nurse to survive the harsh living conditions. As days to turn to weeks, they think of home, the husbands they left behind, and the lives they want to return to.
But with food rations running short, the elders angry at them, and the hope of rescue lost, Ash and Jason start to give up, and in the end turn to each other in their struggle for survival.
+ Read Excerpt
- Read Excerpt
The concussive force of the blast blew Ash backwards out of his seat. He could feel the armored vehicle turning end over end. It took him a moment to grasp the car had stopped. He felt dizzy and disorientated, blinking a couple of times.

Where in the heck was he?

The dust of the desert started to settle, and he remembered. Civilian police, Afghanistan, patrol convoy, IED.

He started to move only to bite back a hiss of pain. His shoulder flared with agony. Motherfucker. He couldn't tell what happened to his arm, but it hurt like a son of a bitch.

His escort and their translator were the other people in the armored vehicle, and they were still and silent. Ash cradled his arm as he started to move, his training helping him to squelch the pain. They were in one of the most volatile and insurgent-ridden districts of Afghanistan. The IED blast had to have been huge to send their armored vehicle flying, especially one five cars from the lead.

Ash glanced though the broken windshield. The force had blown them back and clear of the debris field. There were four vehicles up ahead, all burning or smoking. Ash checked again for signs of life in the other passengers around him.

He found none.

There was, however, unwelcome activity up ahead. A group of armed men moved towards the blast sight, maybe about a kilometer away and closing in fast—insurgents. Ash's instincts met his training, and he kicked into overdrive: scavenge what he could from the wreckage, check for survivors, and find cover.

The door on the passenger side had the least amount of damaged, and after a couple of kicks it creaked open enough to allow Ash to exit. He picked up the medical kit, the water, and anything else tossed loose during the blast, as well as two weapons. Swinging the supplies over his good shoulder and clutching one of the two rifles, he started to move towards the blast site.

The first vehicle ahead was a light armored vehicle like the one he had been riding in. He knew the three other CivPol members were inside the LAV along with an escort and driver. One door and one side of the vehicle were blown clean off, and the driver and the passenger in the front seat were most definitely dead. The two passengers in the back were also dead. Ash moved to check the person in the rear seat, relieved to hear coughs and groans. With the dust and the dirt and the blood pouring from the man's head wound, Ash strained to recognize him. After a moment he could clearly make out the outline of Jason through the gore. He glanced up. The insurgents were advancing. The smoke and dust obscured the two men for the moment, but that wouldn't last long. He had to get them both undercover pronto.

"Jason, Jason," Ash hissed. He grabbed the slumped man's vest, shaking him.

"Jason, wake the fuck up."

Jason's eye's fluttered open.

"Come on. We have to move! Now!"

Jason just nodded his head but didn't move. Having only one working arm meant Ash couldn't hoist him up. He dropped the scavenged gear out onto the ground, and with his good arm he dragged Jason out of the vehicle. He pulled them both to the side, behind the tire, camouflaging and giving them a bit of cover. Ash opened the medical kit and staunched the bleeding on Jason's head wound. He didn't appear to have any other injuries. Although still dazed he started coming around and responded to Ash's voice.

"Stay low," Ash said as he handed Jason one of the rifles he'd recovered.

"We've got insurgents closing in on our location."